The name Boniswa, embodies all that the organization stands for and the key principles against which this uniquely successful company, was founded. Boniswa, the Seswate interpretation of the English word meaning 'Vision' encompasses the foresight and strategic intention that has underpinned the foundation of the company from its inception.
The company logo further supports the essence of the company name by visually encapsulating the inspiration and ingenuity inherent on an artistes painting palate. The tool from which this explosion of creativity and success emanates on a canvas, in turn is the match which strikes with energy into the future, lighting the visionary path for the excellence that is Boniswa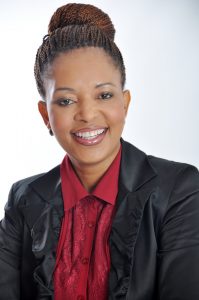 LYNETTE MAGASA – FOUNDER AND CEO, BONISWA CORPORATE SOLUTIONS
As founder and the CEO of Boniswa Corporate Solutions (Pty) – a telecommunication services company founded in 2004 – Lynette Magasa is one of the most respected and influential women in the South African telecommunication SME space.
Described as an entrepreneurial business woman who exudes passion for her business and the industry while also being acknowledged for her integrity and humility, Lynette has never allowed being a woman in a largely male-dominated industry to hold her back.
Lynette started her career at Denel Aviation (South African state-owned aerospace and defence technology conglomerate) in 1998 as a receptionist. Her belief in her entrepreneurship abilities, coupled with her ongoing commitment to education and her determination to succeed, drove her to start her own company – Boniswa Corporate Solutions – with no venture capital or solid background knowledge of the engineering industry. She started off as an Operations Executive, taking on the responsibilities for network rollouts for the major cellular operators in Africa.
Her perseverance in the ensuing 15 years in the engineering and information technology sector has taken the company from a start-up to an internationally-recognised organisation based in the Midrand, Johannesburg, with a staff complement of 200. The company's success story is based largely on ongoing skills upgrading of the team, many members of which have been with the company since its inception
Lynette is passionate about motivating other women to believe in themselves, and she is always available to lend a helping hand. She believes that her success of leading a significant organisation will be a source of inspiration to many women from every race and creed in Africa and beyond.
Acknowledgements
• Top Performing Business Woman of the Year
• Top Black Female Leader of the Year
• Fast Growth Black-owned SMME
• Top Young Entrepreneur
• Top Empowered Entrepreneur (2016)
• Top Empowered Entrepreneur (2017)
• Participation in the panel discussion on inclusive trade for SMEs during the WTO Forum in Genève, Switzerland on 28th September 2016
• Co-Chair of the B20 SMEs Cross-thematic Group on the invitation from B20 Chair, Dr Heraeus, Germany
• Participation in the events organised by B20 and WTO as a panellist, sharing her experience on the many challenges faced by SMEs in Africa
• Member of B20 Argentina SME development task force.
Qualifications
• Current: Accepted into the select group of candidates for the highly prestigious EA-DBA (France-Russian-China) Euro-Asia Doctorate in Business Administration programme (2020)
• Master's Degree in Information Technology: Technical University of Tshwane
• MBA: Regenesys Business School
• Management Advancement Programme (MAP): Wits Business School
• Launching of a New Venture: Harvard Business School.
BONISWA MILESTONES
2004 – Establishment of Boniswa Corporate Solutions announcing its official entry into the South African telecom market. Start projects for Vodacom via Siemens with a staff compliment of 2 teams, 10 employees
2005 – Boniswa secured two major clients Siemens and Plessey executing RF contracts for Vodacom.
February 2006 – Launching of Boniswa Zambia office, execution of RF installation for MTN
March 2006 Launching of Swaziland office, executing turnkey site builds for MTN Swaziland
2006 – Boniswa secured account with Vodacom and starts working directly for Vodacom in Gauteng
June 2008 – Boniswa opened a regional office in Limpopo, Polokwane and starts turnkey site build projects for Vodacom Limpopo region
August 2010 – Opening a regional office in Eastern Cape, start RF works, expanding to turnkey site builds in 2013
September 2010 – Obtaining Management Systems Certification ISO 9000/14000/1800 from Moody International
2010 – Launching a new product – a subterranean base station in strategic alliance with Poynting Antennas
2011 – Boniswa won a Project Management tender for MTN South Africa
2013 – Further expansion to Botswana, acquiring a new key account at "Mascom"
2012-2013 – Launch of a range of new products – telecommunication cabinets, anti-vandal protection cabinets to meet the needs of African market
2014 to date – Further expansion as Boniswa Group of companies, participation in International events in United Nations, World Trade Organization to voice SME needs
2015 – Boniswa was awarded Vodafone contract
2017 – Boniswa secured an account with Telkom for sites acquisition
2017 – launch of Boniswa TowerCo independent company
2017 – Launch of Boniswa Manufacturing company with its own manufacturing facilities to supply clients with cutting edge telecom equipment
2018 – Boniswa was awarded Project Management contract by MTN for the second time
2019 – Boniswa secured Telkom account for site builds
2018 – Expansion to Ghana, registering Boniswa independent company in Ghana
2019 – Expansion to US, registering Boniswa independent company in Boca Raton, Florida
2013 – to date, Boniswa is a winner of numerous prestigious awards
2013- BBQ Awards 2013, Trade11Investment KZN New and Innovative Business Award
2013- 11th Annual National Business Woman of the Year, Top Performing Businesswoman of the Year Award
2014- Top Black Female Leader of the Year at 13th Oliver Empowerment Award
2015- Winner Top Empowered Young Achiever of the year award at 14th Annual Oliver Empowerment Award
2015- EY Entrepreneurial Winning Woman Class of 2015
2015- Elle Boss Winner in the Corporate Category by Elle Magazine in 2015.
2016- Top Young Entrepreneur, Top Empowered Entrepreneur of 2016.
2016- HR awards career 24, winner of the HR Champion of the Year Award
2017- Standard Bank Women Awards – Winner Female Entrepreneur of 2017
2019- Transformation Champion 2019 at Top Empowerment Awards 2019
Boniswa now is a Group of Companies with 200 staff compliment, nationally established in South Africa and in the African continent with the marketing subsidiary in Europe.
With its excellent industry adaptation and rich services, Boniswa was recognized as a Transformation Champion 2019 at Top Empowerment Awards 2019